Gower boasts some of the most scenic beaches and rocky coastline anywhere in the world and was justifiably selected as the first Area of Outstanding Natural Beauty in the UK in 1956. It forms part of the northern shore of the Bristol Channel that has the second highest tidal range in the world leaving huge expanses of golden sand and the largest wave cut Carboniferous Limestone reef exposed on low spring tides.
The number of exceptional landscape coastal views available in this compact area is truly exceptional and these are augmented by beautiful wooded valleys and panoramics from upland areas. The changing seasons offer different moods to be captured throughout the year from the raw drama of the coast being assaulted by huge Atlantic surf in the winter to the tranquillity of crystal emerald water and carpets of colourful cliff top flowers in late spring.

This is truly a chance escape to the country and get away from it all in the company of Welsh professional photographer and lecturer, Andy Davies. He has an intimate knowledge of the peninsula and wrote Walking on Gower in 2012 when he walked every inch of the coastal footpath and explored many inland locations as well.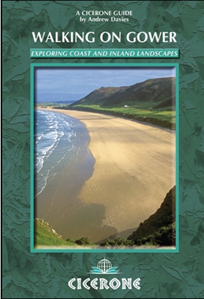 This workshop caters for all skill levels, from complete beginners to aspiring professionals. Hands-on expert tuition is provided to small groups who are initially taken back to the fundamentals of photography, rapidly progressing to having full creative control of either digital compact cameras with manual capability or digital single lens reflex cameras (DSLRs) with interchangeable lenses.
There is plenty of time throughout the workshop for one-to-one tuition when topics of your interest can be explored. News and images can be found on Andy's Facebook page here.
Dates
Workshops can be arranged to fit in with your availability especially during the autumn and winter months.

Cost
£125 per person. Discount available for group bookings of 4 or more.
How to book
Numbers are limited and workshops must be booked at least a day in advance. Contact Andy Davies on 07977 562321 or email andy@andydavies.info
Location
Gower is located in South Wales just to the west of Swansea. It is easily accessible via mainline rail and the M4.
Joining instructions
These will be issued closer to the workshop date.
Fitness level
The workshop will not involve day long hikes but will require the abilitity to walk along the coastal footpath to various locations where steep gradients may be encountered.

Equipment required
Digital compact cameras or digital single lens reflex cameras (DSLRs) with interchangeable lenses. Please ensure that batteries are fully charged. Camera manual and software installation disk.
Optional
Laptop computer loaded with Adobe Photoshop Creative Suite or Elements. Trial versions can be downloaded from the Adobe website. Lead to connect your camera to a laptop's USB port. Tripod.